Golf Leagues
Pine View Golf Course offers a variety fo fun and competitive leagues for golfers of all abilities.
Ladies Night - Nine & Dine
Great fun on Tuesdays after work!
The Pine View Ladies Golf evening is specifically designed for women golfers of all levels. What a great way to get out in the fresh air, exercise and practice your swing while socializing with an amazing group of old and new friends. Such great fun and all without the boys!
Click here for the French version of the Ladies League information.
What is it?
Nine holes of social golf
Dinner after golf
Optional power carts ($10+hst per person)
Optional pull carts ($5+hst)
When is it?
Season for ladies night, starts Tuesday, May 10, 2016
Reserved tee times from 3:00 to 6:00
What's the format?
Relaxed social golf for any calibre
Beginners and experienced golfers are all welcome
Send an email to Nicky if you have any questions — she's here to make sure you have a great time!
Sign up on your own, or with friends!
Registration fee $20 (eligible for draws weekly and at year end banquet)
Golf & Dinner $40. (Tax included)
Price includes nine holes of golf (or more if time permits) and dinner
Pull carts and power carts are not included
Golf only option (applicable green fees apply)
There will be weekly and year-end prizes
Sign up by contacting Nicky Baker at nicky@pineview.com
Pre-pay for your golf and dinner online or as you go at the Proshop
You must cancel 48 hours in advance
Questions?
Registration
Email nicky@pineview.com
Senior Leagues
There are two weekly Pine View Senior Golf days, Wednesday and Thursday morning starting at 9am. These fun and social leagues are open to members and the public. Play one or play both days.
What is it?
9 or 18 holes of friendly golf
Optional power carts ($10+hst per person)
Join us in our Lunch room after your round for weekly prizes
50/50 Draw
Closest to the pins, closest to the rope, longest putts
And a cahnce to win a free breakfast!
When is it?
Wednesdays and/or Thursdays, tee times start at 9:00am.
Starts April 27th (Wednesday) and April 28th (Thursday)
Runs until September 21st (Wednesday) and September 22nd (Thursday)
What's the format?
Enjoy our thirty-six hole facility on a four week rotation:
Week 1 – Front nine on our Championship Course
Week 2 – Eighteen holes on our Executive Course
Week 3 – Back nine on the Championship Course
Week 4– Eighteen holes on our Executive Course
Sign up on your own, or with friends!
$23 (taxes in) for 9 holes on the Championship course or 18 holes on the Executive course.
$20 One-time initiation fee for prizes
Questions?
Match Play League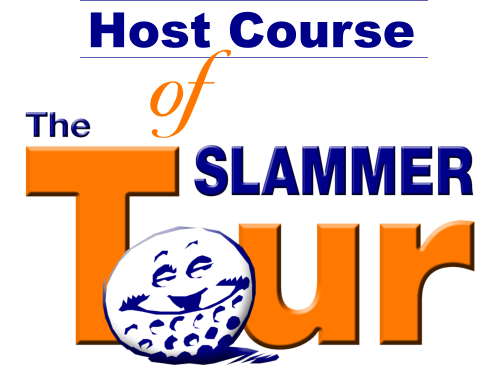 Thursday afternoons the Slammer Tour holds events at Pine View Golf Course. The league is free for Pine View members and open to public players as well. The Tour is designed to let you play with others of similar skill level, even though you are always free to take on the top dogs. Yes, the Tour is competitive, but we never forget the fun.
For more information please check out the Slammer Tour website.